No need to throw away your veggie scraps or wilted ones! Instead, throw it into a large pot to make Vegetable Stock!
Prep Time: 5 minutes | Cook Time: 3-4 hours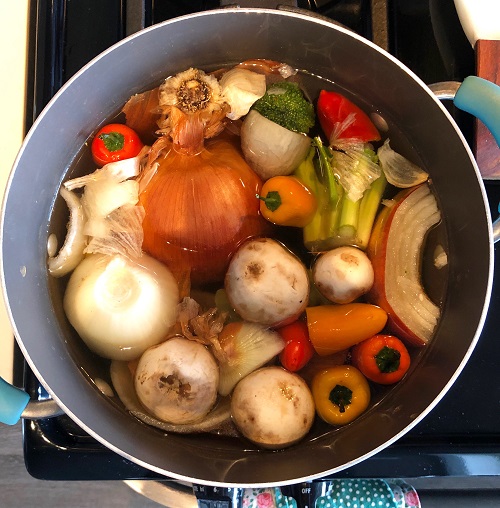 Carrots
Celery
Onion with Skins
Potatoes
Broccoli
Mushrooms
Peppers
Garlic
Salt
Pepper
Turmeric
Bay Leaf
Onion Powder
Garlic Powder
In a large pot, add carrots, celery, onions, potatoes, broccoli, mushrooms, peppers, and garlic. Fill pot almost completely with water. Season with salt, pepper, turmeric, onion powder and garlic powder, as desired. Top with bay leaf; stir until combined. Cover; simmer 2-3 hours. Reduce heat to low; cook 1-2 hours. 

Discard vegetables. Drain with mesh sieve. 

Refrigerate until ready to use.