Vegan chocolaty goodness!
Prep Time: 15 minutes | Bake Time: 15 minutes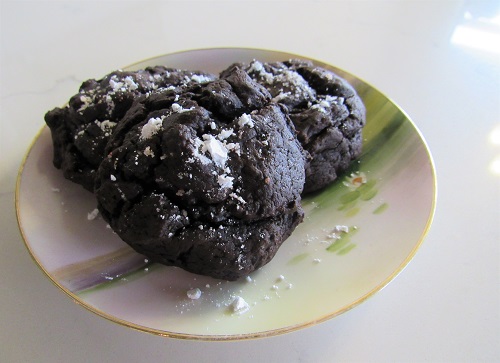 1 cup all-purpose flour
1 cup cake flour
1/2 cup unsweetened cocoa powder
1 tsp baking soda
1/4 tsp salt
1/2 cup vegetable oil
1 cup organic brown sugar
2 tsp vanilla extract
3/4 cup almond or soy milk
1/2 cup vegan chocolate chips
Wholesome Organic Powdered Sugar®
Preheat oven to 350°F. Spray baking pan with nonstick vegan baking spray. Set aside.

In a medium bowl, mix flour, cocoa powder, baking soda and salt. Set aside.

Place oil and sugar in large mixing bowl. Beat on medium speed of electric mixer for 1 minute, or until well combined. Add vanilla and milk; mix briefly, until blended. Add half of flour mixture; beat on low speed until smooth, then add the remaining flour mixture, beating the batter until blended. Stir in chocolate chips.

Drop 2-3 tablespoon size amount of dough, slightly rounded, as desired; transfer to baking sheet. Bake 15 minutes. Remove from oven; let cool on baking sheet 5 minutes. Cool completely on wire rack. Sprinkle sugar on cookies, as desired.