Impress your friends with this easy-to-make recipe all from scratch!
Prep Time: 2 hours | Bake Time: 35-37 minutes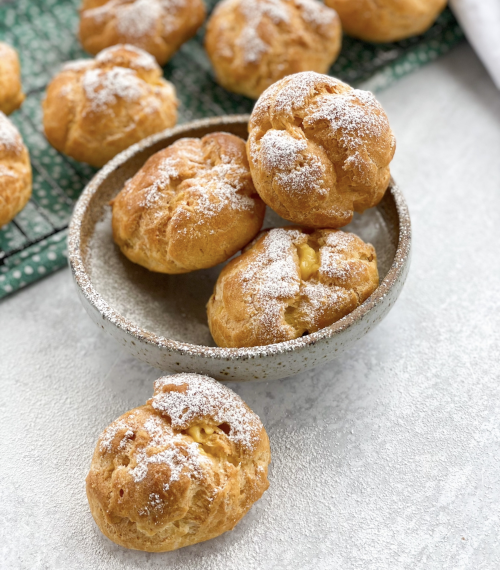 Vanilla Filling
1 and 3/4 cups whole or 2% milk
1/2 cup heavy cream
1/2 cup granulated sugar
1/8 teaspoon salt
4 large egg yolks
1/4 cup cornstarch
1 and 1/2 teaspoons pure vanilla extract
2 tablespoons unsalted butter, softened to room temperature
Pastry
1 cup water
1/2 cup unsalted butter
1/8 teaspoon salt
2 tablespoons granulated sugar
1 cup all-purpose flour
4 eggs
Homemade Powdered Sugar
1/2 cup granulated sugar
1/2 tablespoon cornstarch
In a medium bowl, mix eggs and cornstarch until fully combined. Set aside. 

In a medium saucepan on medium-low heat, add milk, heavy cream, sugar, and salt. Whisk until a small simmer appears, do not overcook. Very slowly stream in 1 cup of the simmering milk to slightly warm the egg yolk mixture. Mix until combined. Then very slowly, whisk the egg mixture into the saucepan.  While continuously whisking, cook until the mixture is thick and big bubbles begin forming. Remove from heat. Whisk vanilla and butter into the pan until combined. Transfer mixture back to bowl and cover with plastic wrap. Chill for 2 hours.

While the vanilla mixture is chilling (about 30 minutes in), preheat the oven to 400°F. 

Heat a medium saucepan over medium heat. Add water, butter, and salt; bring to a boil. Remove from heat. Stir in sugar until combined. Add flour and stir completely until it forms into a dough ball. Add eggs to the flour mixture while stirring one at a time. Cool mixture slightly. 

Lightly grease a cookie sheet or use parchment paper.  With a large spoon (little more than a tablespoon) drop batter to create 10 – 12 large molds. Bake for 35-37 minutes; or until dark golden tips appear. Remove from oven; let cool for 10 minutes. 

While the pastry is cooling, take a coffee grinder, spice grinder, blender, or food processor (whatever you have on hand). Add sugar and cornstarch. Blend together for 4-5 minutes, or until grittiness is gone, The texture should be soft and fine. 

Take the vanilla mixture out from the refrigerator. With a cooking syringe, carefully inject filling into each pastry, as desired. If you do not have a syringe, cut the pastry in half and spoon in cream puff filling.  Dust with powdered sugar. Serve. Store remaining in the refrigerator.