Soft and Perfect Chocolate Chip Cookies
I enjoy making these delicious, mouthwatering, never-get-hard cookies. And who doesn't love receiving homemade cookies as gifts?
Prep Time: 10 minutes | Bake Time: 12 minutes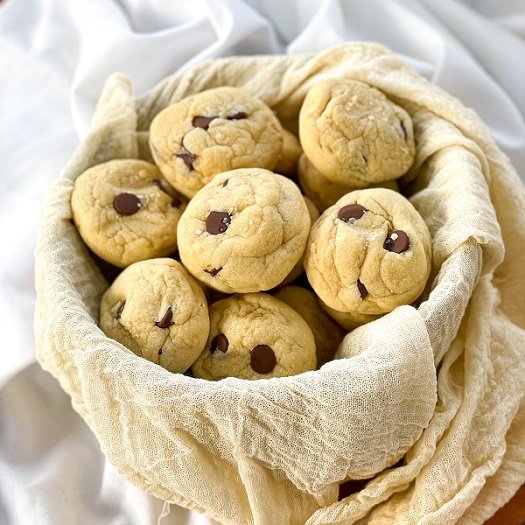 2-3/4 cups all-purpose flour
1/2 teaspoon baking soda
1/8 teaspoon salt
13 tablespoons unsalted butter, melted
3/4 cup granulated sugar
1/4 cup light-brown sugar
2 eggs
3 teaspoons pure vanilla extract
1 cup chocolate chips
Preheat oven to 350°F. Spray baking pan with nonstick baking spray or butter the pan. Set aside.

In a medium bowl, mix flour, baking soda and salt. Set aside.

Place melted butter and both sugars in a large mixing bowl. Beat on medium speed of electric mixer for 1-2 minutes, until light and fluffy. Add eggs and vanilla; mix briefly, until blended. Add half of flour mixture; beat on low speed until smooth, then add the remaining flour mixture, beating the batter until blended. Stir in chocolate chips.

Drop 2-3 tablespoon size amount of dough, slightly rounded, as desired; transfer to baking sheet. Bake 13 – 15 minutes, or until golden around edges. Remove from oven; let cool on baking sheet 1 minute. Cool completely on wire rack.
Nutrition information per serving (1/18 of recipe): 233 calories; 2.9g protein; 26.6g carbohydrate; 13g total fat; 134mg sodium; 46mg cholesterol; 1mg iron.