Our go-to party food favorite! Easy to make, plus low on calories - that's a win!
Prep Time: 15 minutes | Cook Time: 45 minutes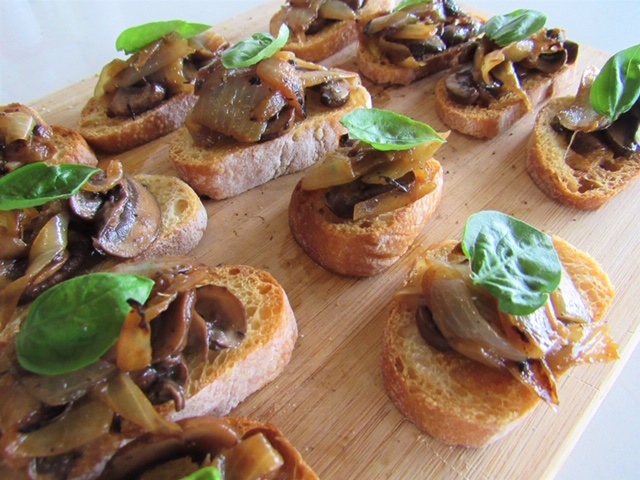 2 tablespoons olive oil
1 tablespoon unsalted butter
2 large sweet onions, thinly sliced (about 2 cups)
1/4 cup water
1/2 cup mushrooms, chopped 
1/8 teaspoon sugar
Earth Balance Extra Virgin Olive Oil Buttery Spread (optional)
nonstick cooking spray
1 baguette, sliced 1/4 inch thick
Fresh basil leaves
Heat medium nonstick skillet over medium heat until hot; add olive oil and butter. Place onions and water; stirring occasionally, uncovered, for 10 minutes. Add mushrooms; continue stirring occasionally. 

Reduce heat to medium-low. Add sugar and remaining water, stirring often for 35 minutes, or until golden brown.

While caramelizing onions, preheat oven to 325°F. Spray baking pan with nonstick baking spray; spread buttery spread on bread on bread slices; place slices to baking sheet. Bake 7 to 10 minutes, or until crispy.

Place 1 teaspoon caramelized mixture onto each bread slice; top with basil leaf. 
Nutrition information per serving (1/24 of recipe): 31 calories; 0.8g protein; 2.7g carbohydrate; 1.9g total fat; 29mg sodium; 2mg cholesterol; 0.3g fiber; 0mg iron.