Rebecca Rao's Marinara Pasta
Julia and I are such fans of Rao's Homemade Marinara, I decided to add-on to this delectable sauce with some of my own favorite flavors.
Prep Time: 15 minutes | Cook Time: 2-3 hours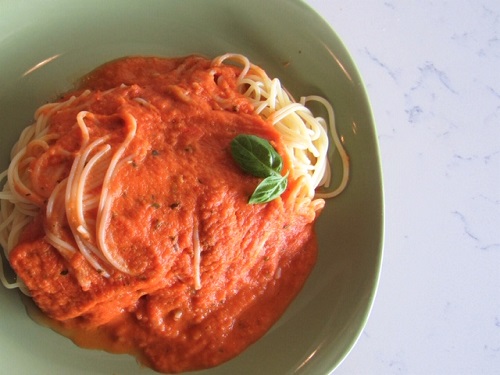 1 large yellow onion, quartered
3 tablespoons vegetable oil
1/4 cup water
1/8 teaspoon granulated sugar
1 cup cherry tomatoes, halved
1 tablespoon olive oil
1 box Barilla Pasta Spaghetti 
4 garlic cloves, whole, peeled
1 Rao's Homemade® Marinara Sauce or 2 (15 ounces) Red Gold Tomato Sauce® 
Fresh basil leaves
1 teaspoon smoked paprika
Pepper
Heat medium nonstick skillet over medium heat until hot; add oil. Add onions; stirring occasionally, uncovered, for 10 minutes.

Reduce heat to medium-low. Add water and sugar, stirring often for 20 minutes. Add tomatoes, stirring occasionally for 10 minutes.

Cook the pasta to al dente according to the package directions; drain and set aside.

Meanwhile, reduce heat to low. Move onion mixture to outer side of skillet. Add olive oil and garlic to the middle of skillet, stirring frequently for 1-2 minutes, or until aroma arises. Add sauce and basil; bring to boil. Reduce heat to low; simmer to reduce desired thickness, stirring occasionally. Stir in paprika. Season with pepper, as desired. Continue simmering for 1-2 hours, stirring occasionally with lid on. 

Pour sauce in a blender; blend until smooth. 

Carefully pour sauce over spaghetti. 
Nutrition information per serving (1/4 of recipe using Rao's sauce):  630 calories; 11.5g protein; 109.7g carbohydrate; 17.92g total fat; 47mg sodium; 3mg cholesterol; 19.2g fiber; 3.12mg iron.