Ratatouille - Marinara Style
Show off your cooking skills with this dish! It's healthy, delicious, AND very simple to make!
Prep Time: 15 minutes | Cook Time: 130 minutes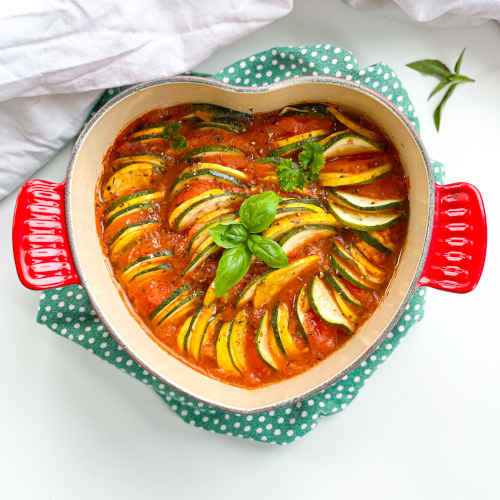 1 tablespoon olive oil
1/2 yellow onion, sliced
1 carrot, sliced
1 stalk celery 
Salt
2 garlic cloves, whole
Fresh basil 
2 cans
1 can (29 ounces) Red Gold Tomato Sauce
2 Roma tomatoes, cores removed
1 zucchini, thinly sliced
1 yellow zucchini, thinly sliced
Olive oil
Salt
Pepper
Italian Seasoning
Fresh parmesan cheese, garnish
Heat large saucepan over medium-high heat until hot; add olive oil. Add onions, celery, and carrots, stirring occasionally for 8-10 minutes or until onions are translucent. Season with salt, as desired. 

Reduce heat to medium-low. Add garlic, stir for 1-3 minutes, or until fragrant. Pour in sauce; add fresh basil, as desired (about a handful). Bring sauce to a small boil; reduce heat to low.  Let simmer for 40 minutes, stirring occasionally. 

Pre-heat oven to 225°F. 

Blanching tomatoes: In a medium saucepan, bring water to a boil. Make a cross in the bottom of the tomato and carefully place in boiling water for 2 minutes or until skin starts to peel. Remove tomatoes; place in ice bath for 2-3 minutes.

While tomatoes are resting, turn off the heat for sauce. Place the immersion blender at the bottom of the saucepan. Blend until the sauce is completely smooth, no chunks remaining. 

With a sharp knife, cut the tomatoes into 1/8 thick slices. In a shallow roaster, pour a  layer of the marinara mixture. Begin arranging vegetables: zucchini, yellow zucchini, tomato from the outer edge ending in the middle. 

Drizzle with olive oil. Sprinkle salt, pepper, and Italian seasoning, as desired. Cover with aluminum foil or parchment paper. Roast for 90 minutes.

Remove from oven; let sit for 5 minutes or until roaster is cool to touch. Serve. Garnish with fresh parmesan cheese.