Martha Stewart is my go-to person for information whenever I am in a tight spot with cooking. I found this tasty pumpkin bread recipe and decided to add my twist on it.
Prep Time: 15 minutes | Bake Time: 65 minutes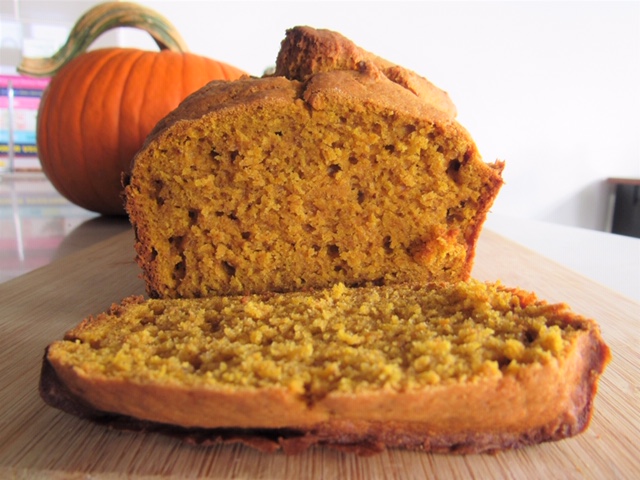 Recipe Courtesy of Martha Stewart
1/2 tablespoon unsalted butter
2 cups all-purpose flour
1 cup granulated sugar
1 teaspoon salt
2 teaspoons baking powder
1/2 teaspoons baking soda
1/2 teaspoon cinnamon
1/2 teaspoon nutmeg
8 tablespoons unsalted butter, melted
1 15-ounce can pure pumpkin puree
3 eggs
1/4 cup fresh orange juice
1 teaspoon vanilla extract
Preheat oven to 350 degrees. Grease with unsalted butter a 9 x 5-inch loaf pan; set aside.

In a large bowl, whisk together flour, sugar, salt, baking powder, baking soda, cinnamon and nutmeg until combined; set aside.

Place butter, pumpkin puree, eggs, orange juice and vanilla extract in large mixing bowl. Beat on medium speed of electric mixer for 2 minutes, or until well combined. Add flour mixture, beat on low speed until blended.

Pour into prepared pan. Bake 65 minutes, or until toothpick insertion comes out clean. Let cool for 10 minutes.
Nutrition information per serving (1/10 of recipe): 282 CALORIES; 4.4G PROTEIN; 40.5G CARBOHYDRATE; 12G TOTAL FAT; 317MG SODIUM; 77MG CHOLESTEROL; 0.8G FIBER; 9MG IRON.