Impress your family and friends with this easy-to-make mild curry recipe!
Prep Time: 10 minutes | Chill Time: 1 hour |  Cook Time: 40 minutes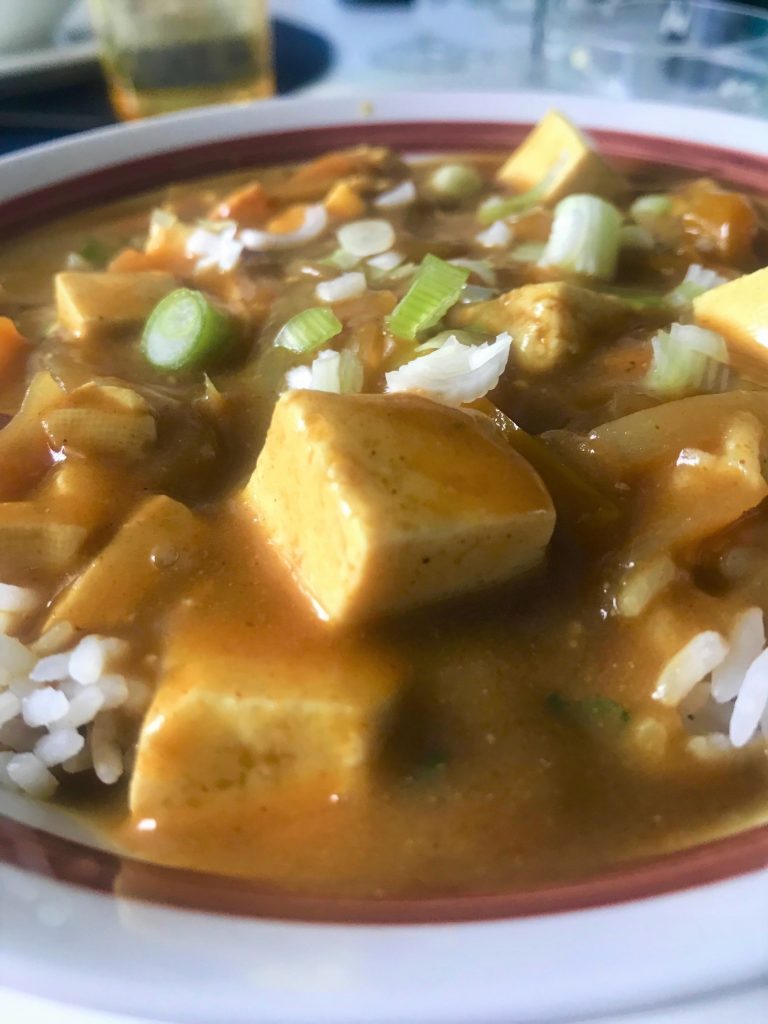 4 tablespoons soy sauce
3 tablespoons rice vinegar
1 tablespoon honey
Chives
2 garlic cloves
16 ounces firm or soft tofu, chopped, keep liquid
1 tablespoon butter
1 yellow onion, chopped
1 yellow pepper, chopped
3 carrots, chopped (I used purple, white and orange)
2 cups rice
5 cups water
1 box S&B Mild Golden Curry Sauce Mix, 7.8 oz (220 g)
Green onions, chopped, for garnish
In medium bowl, combine soy sauce, vinegar, honey, garlic and chives. 

In large gallon bag, add tofu and liquid. Pour marinade in bag; refrigerate 1-hour.

Heat medium non-stick wok pan over medium-high heat until hot; add butter. Place onions and small amounts of water, stirring occasionally for 10-minutes. Add pepper and carrots. Continue stirring occasionally while adding small amounts of water until onions are golden and pepper and carrots are soft.

Meanwhile, prepare rice according to your rice cooker directions; set aside.  

Heat large saucepan over high heat. Add water; bring to a boil. Turn off heat; add S&B Mild Golden Curry Sauce Mix, stirring continuously until blocks are fully melted.

Combine vegetable mixture to sauce mix; stirring until well combined.

Divide rice into serving bowls. Top with curry mixture. Garnish with green onions.
Nutrition information per serving (1/6 of recipe): 348 CALORIES; 8.4G PROTEIN; 65.3G CARBOHYDRATE; 5.3G TOTAL FAT; 860MG SODIUM; 5MG CHOLESTEROL; 4MG IRON.