Our go-to weekend brunch meal with our mimosas. Is it the weekend yet?
Prep Time: 8 minutes | Cook Time: 40 minutes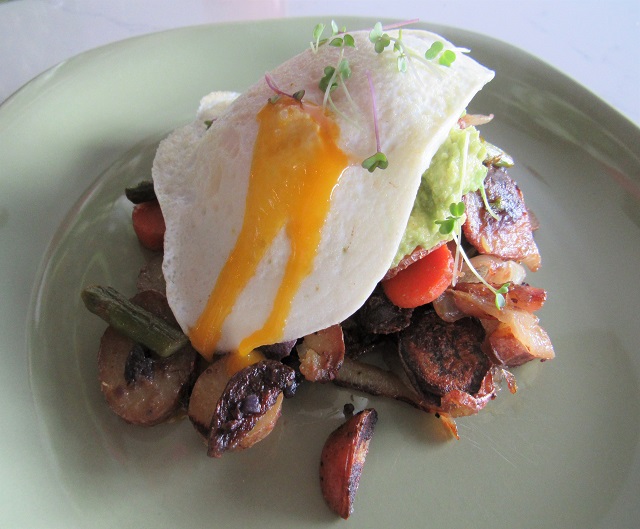 8 baby potatoes, sliced
1 medium yellow onion, sliced
1 medium carrot, sliced
5 asparagus spears, chopped
Salt
Pepper
Garlic Powder
Nutritional Yeast
Lemon Juice
3 eggs
Mixed Green Spouts, garnish
Heat medium non-stick sauté pan to high heat until hot. Reduce heat to medium-low; add olive oil. Place potatoes, carrots, and onions stirring occasionally for 5 minutes. Add asparagus, stirring occasionally. Season with salt, pepper, garlic powder, and nutritional yeast. Continue cooking until potatoes are soft and onions are translucent. Add lemon pepper and lemon juice, stirring occasionally until tender.

For the guacamole, place the avocado in a small mixing bowl. Add lemon juice, salt, and garlic powder. Mash together with a fork; set aside.

For an over-easy egg, heat medium-low with a non-stick frying pan until hot with non-stick cooking spray. Add eggs; cook until white is opaque, about 1 to 2 minutes. Carefully flip and cook for 1 minute.

To serve, place the potato mixture at the bottom of the plate. Add guacamole; top with egg. Sprinkle with sprouts, if desired.
WITH EGGS:
NUTRITION INFORMATION PER SERVING (1/3 OF RECIPE): 273 CALORIES; 11.1G PROTEIN; 21.3G CARBOHYDRATE; 17.8G TOTAL FAT; 139MG SODIUM; 164MG CHOLESTEROL; 8.6G FIBER; 4MG IRON.