Prep Time: 8 minutes | Cook Time: 40 minutes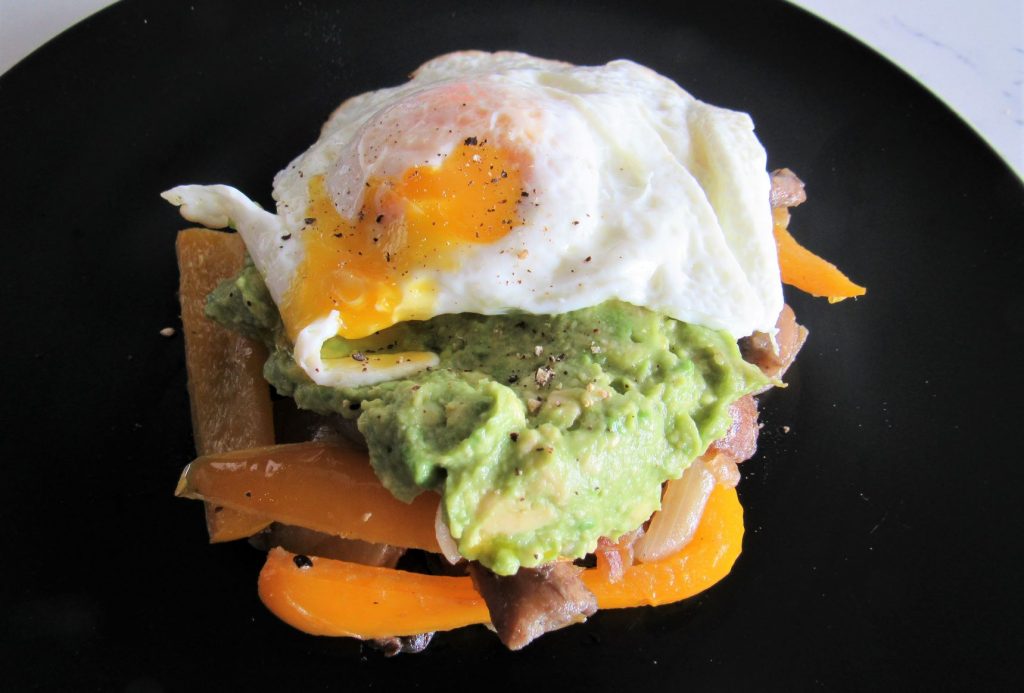 2 tablespoons olive oil
8 baby potatoes, sliced
1/2 medium yellow onion, sliced 
1 yellow pepper, sliced
Salt
Pepper
Garlic powder
Nutritional yeast
1 large avocado
3 eggs
Lemon juice
Heat medium non-stick sauté pan to high heat until hot. Reduce heat to medium-low; add olive oil. Place potatoes and onions, stirring occasionally. Season with salt, pepper, garlic powder, and nutritional yeast. Continue cooking until potatoes are golden brown and onions are a bit caramelized. Add pepper, stirring occasionally until tender.

For the guacamole, place the avocado in a small mixing bowl. Add lemon juice, salt, and garlic powder. Mash together with a fork; set aside.

For an over-easy egg, heat a medium-low non-stick frying pan until hot with non-stick cooking spray. Add eggs; cook until white is opaque, about 1 to 2 minutes. Carefully flip and cook for 1 minute.

To serve, place the potato mixture at the bottom of the plate. Add guacamole; top with egg. Sprinkle with pepper, if desired.
WITH EGGS:
NUTRITION INFORMATION PER SERVING (1/3 OF RECIPE): 228 CALORIES; 8G PROTEIN; 12.4G CARBOHYDRATE; 17.6G TOTAL FAT; 119MG SODIUM; 164MG CHOLESTEROL; 5.7G FIBER; 2MG IRON.
WITHOUT EGGS:
NUTRITION INFORMATION PER SERVING (1/3 OF RECIPE): 165 CALORIES; 2.5G PROTEIN; 12.1G CARBOHYDRATE; 13.3G TOTAL FAT; 57MG SODIUM; 0MG CHOLESTEROL; 5.7G FIBER; 1MG IRON.