Good Morning Cinnamon Rolls
When your family hovers over you while you attempt to take a decent photo, you know this treat will be a family favorite. This mouthwatering delectable, topped with homemade cream cheese glaze, will be gone that morning.
Prep Time: 24 hours | Bake Time: 25 minutes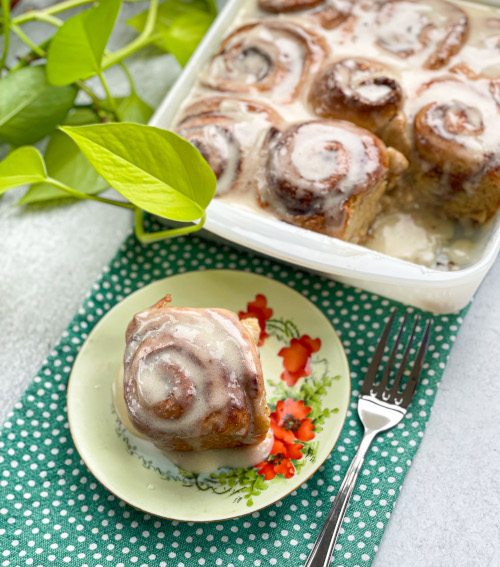 Recipe Courtesy of Preppy Kitchen
Dough:
3 1/2 cups all-purpose flour
1/4 cup granulated sugar
1/4 cup light brown sugar
1 teaspoon salt
2 1/4 teaspoon instant yeast
1 teaspoon cinnamon
1/4 teaspoon nutmeg
1 egg large, room temperature
1/2 cup milk
1 tablespoon vanilla extract
1/2 cup sour cream
6 tablespoon unsalted butter 
Filling:
4 tablespoons butter, room temperature 
3 tablespoons granulated sugar
2 tablespoons light brown sugar
1 tablespoon cinnamon
Glaze:
4 ounces cream cheese
2 tablespoons unsalted butter
1 tablespoon vanilla extract 
1/4 teaspoon salt
1 teaspoon lemon juice 
2 cups powdered sugar 
1 tablespoon milk, plus more if needed
 Dough: In a large bowl, combine flour, salt, both sugars, yeast, cinnamon and nutmeg; set aside. 

In a medium bowl, combine milk, butter, vanilla and sour cream. Microwave for 1 minute, or until scalding (about 120°F). Add butter; stir until combined and butter is melted. Add egg; whisk until combined. 

Attach dough hook to your stand mixer; combine dry and wet ingredients on low until dough ball forms. 

On a floured surface, knead dough for about 3- 5 minutes, dough should spring back when poked lightly. 

Transfer dough to a large oiled bowl. Cover; allow dough to rise in a warm area for 3-4 hours, dough should double in size. 

Filling: In a small bowl, combine both sugars and cinnamon; set aside. On a floured surface, roll out dough to a rectangle shape. Spread butter on dough and sprinkle generously of the sugar mixture. Roll the side of the dough across from the to create a spiral starting from the opposite ends of the unbuttered strip.

Cut dough into 1/2 inch size (I like using floss for even cuts). Place dough on oiled baking dish. Chill in the refrigerator overnight.  Remove from refrigerator; allow dough to do a final rise for 1 hour in a warm area. 

Preheat oven at 350°F. Bake for 25-29 minutes. 

Glaze: Place cream cheese, butter, vanilla, salt, lemon juice and a tablespoon of milk in a food processor; beat until smooth. Add sugar; beat until combined. Drizzle glaze on cinnamon rolls, as desired.