I like to think I'm eating healthy when snacking on two or maybe three of these mouthwatering, always soft cookies. So in light of Valentine's Day, I decided to make strawberry cookies – sweet and red – check mate! These cookies are such a hit at my dinner parties.
Prep Time: 10 minutes | Bake Time: 12 minutes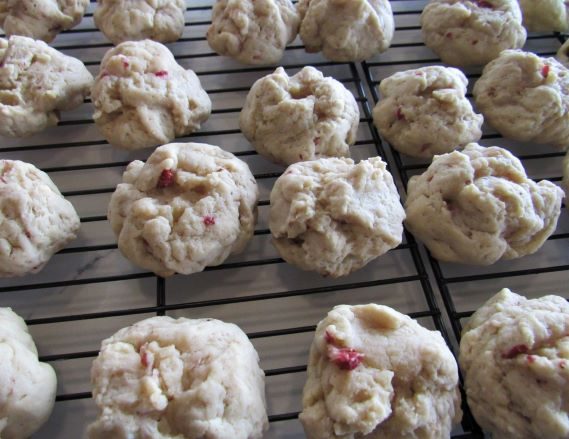 2-1/2 cups all-purpose flour
1/2 teaspoon baking soda
1/2 teaspoon salt
15 tablespoons unsalted butter, melted
3/4 cup granulated sugar
1/4 cup light-brown sugar
1/2 cup strawberries, chopped
2 eggs
3 teaspoons pure vanilla extract
Preheat oven to 350°F. Spray baking pan with nonstick baking spray or butter the pan. Set aside.

In a medium bowl, whisk together flour, baking soda and salt. Set aside.

Place melted butter and both sugars in large mixing bowl. Beat on medium speed of electric mixer for 2 minutes, until light and fluffy. Add strawberries, eggs, and vanilla; mix well. Add half of flour mixture; beat on low speed until smooth, then add the remaining flour mixture, beating the batter until blended.

Grab dough into 1 inch balls (do not roll into balls) and transfer to baking sheet. Bake 11 minutes, or until golden around edges. Remove from oven; let cool on baking sheet 1 minute. Cool completely on wire rack.
Nutrition information per serving (1/18 of recipe):  185 calories; 2.2g protein; 21.4g carbohydrate; 10.2g total fat; 177mg sodium; 44mg cholesterol; 0.5 g fiber; 1mg iron.