Prep Time: 24 hours | Bake Time: 22 minutes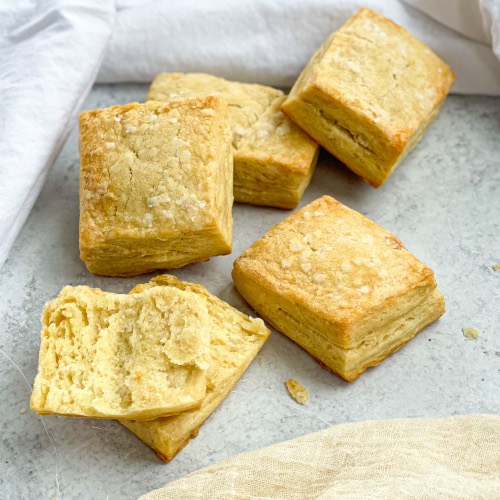 Recipe Courtesy of Basics with Babish
2 sticks (16 tablespoons) unsalted butter, cold
15 ounces all-purpose flour
2 tablespoons granulated sugar 
4 teaspoons baking powder
1/2 teaspoon baking soda
1 1/2 teaspoon kosher salt 
1 1/4 cups buttermilk, cold
3 tablespoons butter, melted
Salt
Place the two sticks of unsalted butter in freezer for 8 minutes (must already be cold from refrigerator). 

Meanwhile, combine flour, sugar, baking powder, baking soda, and salt in a large mixing bowl. Grate the frozen butter sticks; fold to combine. Make a well into mixture; add buttermilk. Mix carefully until loose dough forms (will look somewhat flakey and not like regular dough you're used to).  

Place dough on a heavy floured surface. Gently roll the dough into a rectangle (around 12″x9″). Fold into thirds. Continue flouring the surface and repeat folding steps 5 times (you're creating biscuit layers).  

Wrap dough in plastic wrap; refrigerate overnight (trust me!). 

After dough has been rested, preheat oven to 400°F. 

Place dough on floured surface; gently roll into a rectangle. Cut edges carefully to form a perfect rectangle. Cut dough in half then fourths, creating 8 dough biscuits. 

Transfer biscuits carefully on rimmed baking sheet lined with parchment paper. Brush them with melted butter; sprinkle with salt, as desired. 

Bake 22 minutes or until golden brown. Remove from oven; let cool before serving.