This was our Grandpa's favorite pie. Who doesn't love a good ole homemade pie? All from scratch!
Prep Time: 24 hours | Bake Time: 20 minutes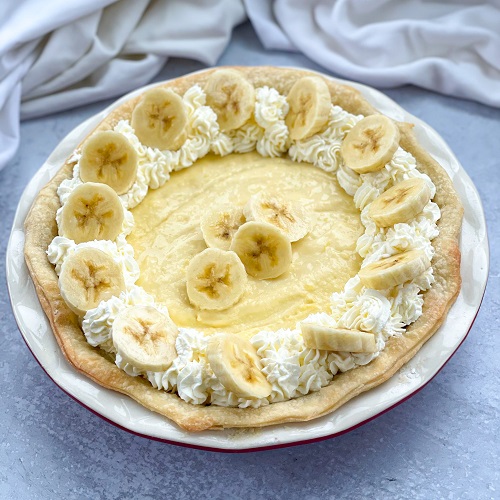 Pie Crust
1 1/4 cups all-purpose flour
1 1/2 tablespoons sugar
3/4 teaspoon salt
1 stick unsalted butter, chilled and cubed
1/4 cup ice water, may not need all of it
Pie 
1 and 3/4 cups whole or 2% milk 
1/2 cup heavy cream
1/2 cup granulated sugar
1/8 teaspoon salt
4 large egg yolks
1/4 cup cornstarch
1 and 1/2 teaspoons pure vanilla extract
2 tablespoons unsalted butter, softened to room temperature
3 bananas
Whipped Cream
2 cups heavy whipping cream
3 tablespoons sugar 
To make the homemade pie crust: In a large bowl, mix the flour, sugar, and salt. Add butter, (I used a fork and my hands, you can also use a pastry cutter), combine slowly adding water, one tablespoon at a time. Stop adding water when the dough forms a large clump. 

Transfer dough to a floured surface. Flour hands and fold dough, form into a ball. If the dough feels sticky, sprinkle with flour. 

Wrap dough tightly in plastic wrap. Refrigerate for 24 hours, trust me on this one.

Time to make the pie! Preheat oven to 375°F. Transfer dough to a floured surface. Use gentle force with your rolling pin. Carefully place the dough into a 9×2 inch pie dish. Tuck dough with your fingers, making sure the dish is smooth with no air bubbles. Flute and decorate edges as desired. Chill prepared pie shell in the refrigerator for 30 minutes. 

Cover pie shell with aluminum foil or parchment paper. Fill with pie weights. Bake for 22 minutes. Remove from oven. Carefully remove cover and let cool. 

In a medium bowl, mix eggs and cornstarch until fully combined. Set aside. 

In a medium saucepan on medium-low heat, add milk, heavy cream, sugar, and salt. Whisk until a small simmer appears, do not overcook.  Very slowly stream in 1 cup of the simmering milk to slightly warm the egg yolk mixture. Mix until combined. Then very slowly, whisk the egg mixture into the saucepan. While continuously whisking, cook until the mixture is thick and big bubbles begin. Remove pan from heat. Whisk in the vanilla and butter until combined. Transfer mixture back to bowl and cover with plastic wrap. Chill for 15 minutes. 

Slice 2 bananas and arrange in pie shell. Spread cool filling at the top.

Place a piece of plastic wrap directly on top of the filling.  Refrigerate for at least 6 hours or up to 1 day before serving. Otherwise, the mixture will melt everywhere. 

To make whip cream: Add heavy whipping cream and sugar in a large bowl. Beat with a hand mixer until peaks form, about 5-7 minutes. Slice banana and decorate as desired. Serve.