I love anything custard. But since I'm lactose sensitive, I had to find an alternative ingredient that not only will keep the same great taste, but help my tummy from screaming bloody murder. Almond milk does the trick. I can make the same dairy-tasty desserts without destroying the flavor and texture. Find out how from my recipe below. Ka-Blam Win!
Prep Time: 10 minutes | Bake Time: 1 hour  | Chill Time: 1 hour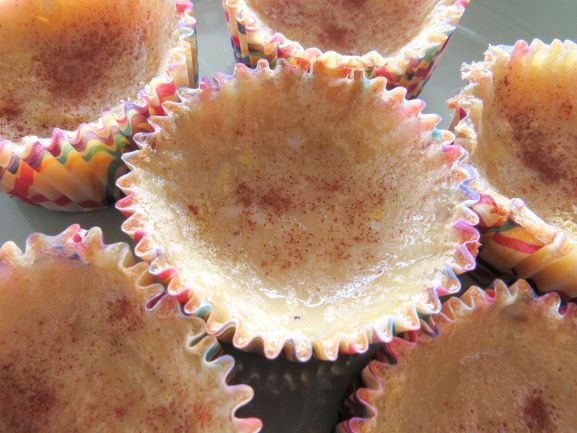 1 3/4 cups almond milk
2 eggs (beaten)
1/2 cup granulated sugar
2 1/2 tablespoons cornstarch
1/8 teaspoon vanilla extract
1/8 teaspoon salt
Cinnamon (optional)
Preheat oven to 325⁰F. Add 6 liners to muffin pan, set aside.

In large bowl, whisk together almond milk, eggs, sugar, cornstarch, vanilla and salt. Beat on low speed of electric mixer for 1 to 2 minutes, or until well combined.

Divide almond mixture between liners or 6 custard cups. Sprinkle with cinnamon, if desired. Bake for 1 hour, or until lightly golden at the top. Remove from oven; let cool for 1 minute. Place in refrigerator for 1 hour. Serve.
NUTRITION INFORMATION PER SERVING (1/6 OF RECIPE): 257 CALORIES; 3.5G PROTEIN; 23.7G CARBOHYDRATE; 18.5G TOTAL FAT; 82MG SODIUM; 55MG CHOLESTEROL; 1MG IRON.